February 19, 2018, Bangkok – Riffing on music history, literature and his own experiences as a musician, Jim Algie's new book, On the Night Joey Ramone Died: Tales of Rock and Punk from Bangkok, New York, Cambodia and Norway (Magic Bullet Press, 2018), takes readers on a wild joyride through the euphoric highs and abysmal lows in the life of an aging rock star, who is trying to stage a comeback in a business obsessed with youth.
As with music, the timing of the book's release is key. "The 40th anniversary of punk that's continuing through 2018 with all the reunion tours, music festivals, photo exhibitions and rereleases of influential records like the Ramones debut seemed like a good time to reflect on the movement and how it changed rock history," says the author, "but music is such a personal and deeply emotional experience you can only get to its essence by showing its effects on one person's life."
That viewpoint character is Lek, a Thai musician born on an American military base in Thailand who was turned on to rock and punk by the GIs during the Vietnam War. By the time Joey Ramone, his mentor and former correspondent, passes away, he's a fallen star producing boy bands. Divorced from his wife, estranged from his musician son, and out of rehab, he is struggling to get his family life and music career back on track.
In "The Genocide Girls and Boys," Lek meets a younger woman from Norway who is obsessed with extreme metal and the Cambodian genocide. Smart, pretty and deeply troubled, Edana will push his creative and self-destructive streaks to the limit as she forces him to deal with his own mid-life crisis, and question his commitments to her, his family, his old demons, and his band-mates as he works on a comeback album.
The first paperback edition of the book contains a new 130-page nonfiction section of "Rock Writings and Musical Memoirs" that mixes the author's music journalism with tales from his own career as a trailblazer in Canada's indie-rock scene. "When Punk Turned 40" denotes the movement's backstory, while "My Close Encounters with Rock Stars," features Joe Strummer, the Pixies, Pearl Jam, Soundgarden, Mudhoney, the Jesus and Mary Chain, Ice-T, the Gun Club, Teenage Head, Jim Carroll, Leonard Cohen and "Assholes in Headlining Bands I Barely Met Yet Still Despise." The grand finale, "My Last Show and Worst Onstage Disaster," chronicles a near-death experience the author had during his final gig in Berlin.
The new paperback edition of "On the Night Joey Ramone Died" includes a front cover blurb from the renowned author, former singer and hit songwriter, Timothy Hallinan, author of the Poke Rafferty Bangkok Thrillers, who called it, "The funniest sad book and the saddest funny book I've read in a long time. The book also captures the pop music world as well as, and in some cases better than, most rock autobiographies."
On the Night Joey Ramone Died is available from Amazon Kindle as an ebook for a paltry US$2.99, while the expanded paperback edition goes for US$12.99 on Amazon.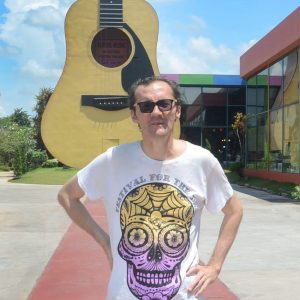 THE AUTHOR: After playing, touring and recording with some of Canada's most influential indie bands, Jim Algie launched a career as a journalist, travel writer and author in Bangkok, penning such internationally lauded books as Bizarre Thailand.
More about the author here.
Email: jim@jimalgie.club
REVIEW COPIES: Book reviewers can feel free to request a review copy for Kindle or ePub by emailing the author.
BOOK EXTRACTS: Bangkok 101 magazine is running a series of exclusive book excerpts from On the Night Joey Ramone Died in four parts.
RAVE REVIEWS: A number of positive reviews of the books are online at Asia Life Magazine, the Khmer Times daily in Cambodia, The Nation newspaper in Bangkok, the Bangkok Post and on this bookseller blog, written by the wonderful Janet Brown.