A pioneer of hardcore punk drumming and vital member of the Edmonton music scene, Evan lived fast, died middle-aged and left a small yet sound legacy. 
Evan C Jones cracked me up and bewildered me right from the first time I met him until our last message exchanges on Facebook in early 2021. Though I don't think 'meet' is the correct verb to describe any encounter with him. One came upon Evan like a rare and exotic amphibian – a "tadpole" by his own admission – who sometimes seemed completely harmless and sometimes secreted a poison with hallucinogenic properties.
The guitarist Dale Mosalyk introduced us. A dead ringer for Joey Ramone in those days, Dale taught me how to play two Ramones' songs on bass, "Gimme Gimme Shock Treatment" and "Kill That Girl," which was all the musical training anyone needed to form a band in those early days of punk. He brought Evan over to jam in my mom's basement. At first, I wasn't sure what to make of this long-haired kid with the wispy, parody of a moustache. Was he wearing a Ted Nugent T-shirt in jest or as a fan? Who quits school in Grade 7? Why was he such a good drummer at the age of 14?
ECJ, as he also called himself, is the only person I've ever known who simultaneously seemed both older and younger than his actual age. While he played Evan would don and discard an A-to-Z guide of facial expressions, ranging from agony to zealotry. He rocked harder with his drums and facial expressions than many entire bands I have seen. During my decade in the music biz, I had the honor of playing with a lot of good drummers, but he taught me more about being in a rhythm section than anyone else and he was always my favourite. Once or twice a year I'd text him about that. Evan always responded in kind.
Towards the end of the aborted year that was 2020, when much of the world's populace dwelled in the same state of suspended animation in cyberspace, we reminisced via DMs about the 40th anniversary of playing our first paid show as a trio called the Urban Surfers, starring Al Miller on lead vocals, guitar and galoshes. The gig was at a bar on the University of Alberta campus, three days after John Lennon was murdered in late 1980 by a man who claimed to be one of his biggest fans; we knew that had to be a bad omen for starting our music careers; we didn't realize it was actually a parable. Evan was only 15 but he could already drink like a sailor on shore leave. Getting paid 75 bucks – 25 apiece – for playing two sets of our originals and a bunch of 60s' covers like "Stepping Stone," "White Rabbit" and "Get Off My Cloud" made us feel like rock stars. It was incredible. People were paying us to play music and then applauding us for it? Chicks who normally wouldn't even talk to us (meaning pretty much all of them) were dancing to our beats? (That's a whole other form of copulation only performing musicians understand.) The venue was giving us free beer? This seemed like the greatest thing that had ever happened to us. It also proved to be a lifelong bond.
ICONOCLASM IN ACTIONS
The Surfers got on our first big bill opening for DOA, the Sturgeons and Blank Generation at a hall party in Edmonton. The show was only a few days after the assassination attempt on Ronald Reagan by John Hinkley, who was doing a murderous peacock strut for actor Jodie Foster (it ain't easy impressing girls, you know). By outrageous coincidence, the gig was supposed to be some kind of "Rock Against Reagan" event. The gig poster,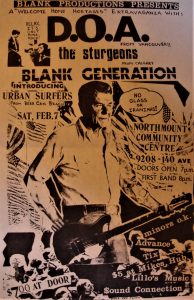 created by Ken Chinn, who was not yet the front man of SNFU known as Chi Pig, showed the American president playing an electric guitar. During their headlining set, DOA lampooned him with their vitriolic track, "You're Fucked Up Ronnie."
Evan, as always, had a much different take. A talented and prolific painter, he showed up for the sound check wearing a homemade T-shirt with what looked like smears of blood across the front amidst two words scrawled with a magic marker that, upon closer inspection, said: "Ronald Reagan." I laughed when I saw it and Evan laughed at me laughing at his shirt; we shared a similarly warped sense of humour. Alone among his fellow earthlings once again, only ECJ could have rendered the attempted assassination of a world leader as an expressionistic portrait and one-off T-shirt design.
Evan was 16. I guess it was around then that he started doing drugs and they started doing him in too; that's a two-way street with no traffic lights and no speed limit but plenty of cops scammers. Hallucinogens were his cup of tea laced with mushrooms, like his psychedelic heroes from Pink Floyd and the Jimi Hendrix Experience.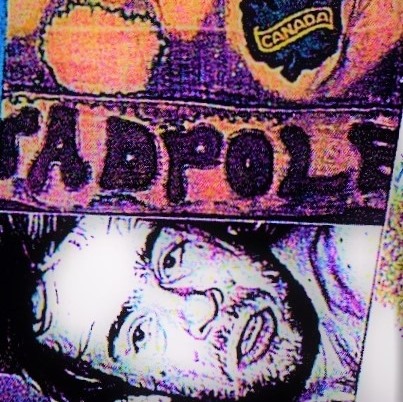 Later on, while touring with SNFU, he gave himself the nickname "Tadpole" after an LSD trip he took when the paisley patterns on his bandana started to swim like tadpoles. Those hallucinations inspired a whole new theory of "Evanolution" (as I called it) that hasn't quite garnered the popularity of Darwinism yet, though there are some similarities. "Jamie… Jamie," he said to me dozens of times, the only person besides my mom who ever called me that, "all of us and humanity, man, we're still just tadpoles. We haven't even become frogs yet."
Many are the misfits and mavericks who march to their own drum. Few of them are actual drummers. Not only did Tadpole march to his own kick drum, snare, toms and cymbals, he bashed the fuck out of them too.
ONE-ALBUM WUNDERKIND
Evan's legacy in music mostly rests on his status as a founding member of hardcore heroes SNFU (meaning Society's No Fucking Use, unless of course you need to get a pizza delivered or see a dentist). He played drums on their first (and many would say best) album, "And No One Else Wanted to Play." Late in 2020 when I was catching up with Marc Belke, a teenage jamming partner and skateboarding buddy, who was the group's second-longest-serving member after Chi Pig, Marc said: "When we started, Evan was the best musician in the band. He could also play guitar and bass, and he contributed a lot of musical ideas and arrangements to that record."
(Weeks later, when Evan messaged me to ask what Marc said about him, that's exactly the quote I repeated. Evan craved respect. In his later years, he felt like he'd been forgotten and never reaped the rewards he was owed for being a trailblazer.)
Marty Chatrin, who played drums in Euthanasia, another hardcore band from Edmonton, paid tribute to him on Facebook after his demise. "Evan was a punk rock pioneer. His take on what would become hardcore punk drumming set the stage for so many to follow. He was an inventive and creative drummer. Where he placed those tight, 32-note machine-gun fills is still a challenge to most drummers today."
Trying to stay sober proved just as challenging to him. During his final touring days with SNFU, the band's acronym could have stood for "Sobriety's No Fucking Use." He talked about it on the Shocked & Stranded Podcast with musician Evan Catalano in early 2021, which turned out to be the last interview he ever gave. Leaving the band saved his life, said Evan, but it took him about two years to get his bearings and sanity back.
The podcast (two-hours lengthy) is illuminating. I knew ECJ for four decades, but I never knew that he'd gotten his first mohawk to express his solidarity with Travis Bickle in the movie Taxi Driver. His anecdote about getting his first tattoo should be mandatory listening for every hipster who thinks how cool and trendy body ink is now. When Evan went to get his, at a time when only criminals, bikers and prostitutes wore them as Satan's stigmata, the burly biker and tattooist in Dedmonton looked at him and said, "Get the fuck outta here. We don't tattoo punk rock faggots." Undeterred, Evan went to the liquor store to get a six pack, then he rolled up a joint and returned to the tattoo parlor to share his goodies. Just like when we played a hall party for a biker's birthday bash with the Surfers, Evan won them over with his wacky sense of humor, bonhomie and rock attitude.
CRAZY DIAMOND 
His early exit from the music biz led to plenty of ill-founded rumors that Evan was a "burnout" or "acid casualty" – an image he happily pandered to with his constant references to the first Pink Floyd singer, Syd Barrett. I probably received upwards of 100 emails or messages from him that concluded with: "This crazy diamond shines on." 
For years after leaving SNFU, he toiled as a furniture deliveryman, a carpet cleaner and even worked in the bakery at Superstore, said his long-time friend, Lisa Swaren. "During his time there [Superstore] one co-worker recognized him as the legendary drummer that he was. Evan denied it at every turn, but finally said, 'Okay, okay, I'm the Evan C. Jones from SNFU.' The guy wanted his autograph and said Evan was the reason he became a drummer. Evan told him to not to tell anyone about who he was at work."
After totaling a car in a crash that almost killed him and caused some serious brain damage, he lived at home with his mom for the last 15 years of his life. Most of his time he spent playing guitar, writing and recording songs and doing new artworks. In that final interview, he estimated that he'd written and recorded close to 500 songs. Two of them are included on the podcast. They're good tracks with strong melodies and interesting lyrics. Evan did the lead vocals and played all the instruments, too.
He had a few exhibitions of his artworks, but he didn't like putting a price on what he felt were personal parts of himself. Most of the paintings he gave away to friends. Unlike so many of the poseurs, phonies and pseudo-influencers do today, Tadpole was not keen on pimping himself or his art or his music on social media. The real artists like him just get on with the work and pay the price for keeping a low-profile, which is toiling in obscurity for next to nothing, but they don't care because it's the single-minded expression of a personal vision that counts not the slavish courting of public opinion and fickle adulation, which in the social media age is counted in likes, shares, comments and page views (ho-hum).
COUNTRY SWAN SONG
The last time I got to hang out with him in the flesh was back in 2007 on a return trip to Edmonton. We spent a day hanging out in our old haunts like the Rose Bowl and posed for a photo outside all that is left standing of my mom's old house, where the Urban Surfers, Jerry Jerry, the Malibu Kens, Moe Berg and the Belke brothers used to jam. All that's left of that house is the pair of pine trees that once stood on either side of the front gate and served as roosts for many generations of brown bats, if they're not extinct by now like so much of that world we came from of drive-in movies, mustang bicycles with banana seats, transistor radios, homemade skateboard ramps, concept albums and dozens of deceased friends.
While driving us around that afternoon Evan spent a lot of time mocking a certain punk rock musician from Alberta who later became a country star. Evan would sing a hokey verse then start yodeling then he'd yell, "Yee haw." He'd stop for ten minutes and then start the same shtick again. If the main character in The Fly had turned into a giant mosquito instead of the titular insect he might have been like Evan at his most annoying and obsessive repulsive. He hated with the same intensity that he loved, and he had a specific grudge against any hometown musicians whom he thought had eclipsed him in terms of commercial success. After he started in on episode number five or six of the Grand Old Opry, I had to tell him, "Evan, can you take a break?" "Oh yeah, sure, sorry, man."
Cassandra, my lady love at the time, took the photo of us. She thought Evan was the coolest – and the craziest – person she met in Canada on that trip, which is saying a lot. I know quite a few cool and wacky people back there, and she hails from Manchester. 
LAST CALL
Evan was too much of a hippie to be a total punk, and too much of a punk for the neo-hippie scene. In the end, he was an outlier even among the other outsiders. I don't know if he preferred it that way or not. As with his T-shirt painting of Ronald Reagan, a lot of people didn't understand Evan C Jones and vice-versa. Certainly few folks have figured out how and why he became pen pals with Charles Manson and talked to him on the phone dozens of times after Manson called him from prison. That entire conversation was censored from his final podcast and interview, which is not very punk. Easier to understand is his obsession with the 60s, both the upside and the downside. By his own account, he had suffered some serious brain damage from accidents and multiple trips to the ER. That could have been another contributing factor to his friendship – or perverse fascination – with Manson.
In other ways he was as old-fashioned as a bowtie. He's the only person I know – sometimes I can't help referring to him the present tense – who would snail-mail me a real Christmas card every year. Usually there were typical Yuletide scenes of brick fireplaces strung with Christmas stockings or farmhouses surrounded by snow. For the holiday season of 2020 I sent him a copy of my music book, "On the Night Joey Ramone Died: Tales of rock 'n' punk from Bangkok, New York, Cambodia and Norway," and he sent me back the grinning pic of him holding the book. 
No matter how many tattoos he got, no matter how many fights he got in when he was still drinking and no matter how many times he got roughed up by the cops for looking like a freak, he never lost that rare ability of his to look both older and younger than his actual age: 55 in this case. 
After his passing a few months later on Saturday, April 17th, 2021, me and Brent Belke (another old buddy and founding member of SNFU) lobbed a few DMs back and forth across the Net. Brent had heard the unsettling news, but he didn't know what the cause of death was. I relayed the story Lisa Swaren had told me which she heard from his mom, who said that Evan had an enlarged heart and that he died of heart failure at home after a night of playing guitar. If he had to go, then that was the way he would have wanted it: rocking right up until the last few bass drum beats of his heart.
After I broke the news to him, Brent replied with: "We all know Evan had a big heart. Urban Surfers forever."
Perhaps that cause of death is premature. Since his passing other evidence has emerged that suggests the drummer, in a weakened state of physical and mental agony for much of the past few years, decided to cut short his sufferings. That is conjecture. Nobody except his family and pathologist knows for sure. And they're not talking.
Worst of all, Evan's archive of songs on his laptop and many of his artworks, vintage instruments and clothes have all disappeared. All that remains of his artistic legacy, besides the first SNFU album of course, are some cassettes and CDs floating around with a twenty or thirty of his songs that we are planning to digitize, and a few artworks we can scan, for a tribute website to him.
I guess that's why people put up all these trite platitudes like "RIP" and "Sorry for your loss" on social media after someone dies, because the reality – that almost everything you have ever done, said, thought, loved and created, will die and disappear along with you – is too harrowing to even begin to contemplate let alone discuss.
REUNITED IN DEATH
Evan's closest friend in SNFU was the singer, Chi Pig (aka Ken Chinn), who was also a talented visual artist with his own skewed vision of the world. Together they passed the monotonous miles on tour, which sometimes seem like a tape loop of the same scenes unfolding over and over again, by doodling, drawing and painting in the van. After Ken passed away in July 2020, Evan kept pestering me to write a proper tribute to him. If it hadn't been for him I might never have finished it. ECJ contributed some cool quotes and anecdotes to the story. He rounded up a lot of the old photos and did some fact-checking, too. Once it was published online last year, he sent me a message:
"I love you Jim. You are really some one that really would be truly the most incredible Human being to do a REAL well done Story/Bio/Doc/Book about SNFU and/or one about this crazy old Cat ECJ …. ?? Some day….?? Just a thought… I tell ya Jim…. I've had maybe Four or Five people start doing a Bio Book about My Life & Music with Art and Brain damage, and my many DOA's in the ER over the years…. Booze, Sex, Drugs, Rock 'n' Roll… Ya know, the same old same old…………. Not quite…. I'm amazed that I'm still here…. Like a poor version of OZZY OSBOURNE 😊 Peace and Love"
Okay, buddy, it's in progress.
INTO THE BIG NOTHING OR GREAT WHEREVER
After a close friend or family members dies we see reminders of them everywhere. The day after I heard about his demise, I was on a flight from Tucson to Seattle when I saw this tableau of Mount Rainier out the window. In the decade before his death, Evan had been sober, but in his younger days he was like Icarus who yearned, in the Pink Floyd sense, to "Set the Controls for the Heart of the Sun." On many occasions he got his wings burned off and crashed hard, but Evan had some survival genes, too. As he said in that message, one of the last ones I received from him, "I'm amazed that I'm still here."
It seemed oddly fitting to glimpse such a vision over Seattle, where he went on a pilgrimage back in 1996 to visit Jimi Hendrix's grave. Hank Angel, the rockabilly singer and Edmonton exile, met him after that pilgrimage under the most unusual of circumstances, "I didn't know Evan very well. Hardly at all, really. I wish I had. The handful of encounters and conversations I had with him over the years always left me thinking he was a kind guy with a pure heart. The last time I saw him was in 1996 at the Victoria International Airport. It was a surreal encounter. My wife and I were stranded there for 16 hours with our three-year-old son. The crappy, budget, now-defunct airline we chose to fly us back to Edmonton didn't have a plane to replace the one that broke down. I was exhausted from minding a very unhappy toddler, when all of a sudden, Evan appears! He's as surprised to see me as I am to see him. We chatted for a few minutes. I can't remember where he was going. It wasn't back to Edmonton. He had just come from Seattle. He had gone there specifically to see Jimi Hendrix's grave. I thought that was really cool. He was still glowing from it. We wished each other well and he went on his way. I'll never forget what a pleasant surprise and relief it was, in an otherwise hellish situation, to see Evan. That's how I remember him."
I don't know what happens when we die. Part of me thinks that it's about as exciting as turning off a light switch. One minute you're on. Then you're off. Forever. It's like nothing. We come from nowhere and we end up no place except in the memory banks of those who cared that we ever once existed. 
Another part of me grew up reading weird tales by Poe and listening to stories like my grandfather's near-death experience. A railway conductor for more than 40 years, he was also an atheist. When hospitalized with a severe fever, before I was even born, he recalled leaving his body and floating up into a long tunnel where he was about to be reunited with his all of his deceased relatives when the fever broke and he fell back into his body.
That's a fairly typical near-death experience, which have been reported all across the world. As someone who's spent much of my adult life researching and writing about such subjects, interviewing experts and having a few experiences myself, I can say that there's enough evidence out there to suggest that consciousness is not only produced by the human brain, which is the starting points for any discussion of an afterlife. Consciousness may be much vaster than our own little portals into the universe and we may all be a part of it, like tiny cells in a universal brain. Whether you want to call that God or Allah or Nirvana or Shiva or the Tao or the Thunderbird that indigenous North American peoples worship, or the parallel universes that quantum physicists have theorized about, or the new term "intelligent design," does not matter, because they may all be different expressions of the same thing.
That part of me hopes that Tadpole has finally reached his full frog status, that he and Ken are some surfing some gigantic sound waves in the Great Wherever, and that they're going to save me the bass gig, so me and Evan can have a rhythm-section reunion, in our future reincarnation band The Frogmen from Dedmonton.
Jim Algie is a musician and the author of the music collection book "On the Night Joey Ramone Died: Tales of rock 'n' punk from Bangkok, New York, Cambodia and Norway" available from Amazon.